Out and About
Our schedule of tours and visits has proved very popular with members because they provide further opportunities for socialising and learning about our community in an interesting and fun way.
Over the past couple of years we have visited a variety of sites around Canterbury including exploration of Ohinetahi in Governors Bay, ogling Otahuna Gardens in Tai Tapu, rambling through Broadfield Gardens, traipsing around Travis Wetlands, meandering through the Air Force Museum and gathering at the Art Gallery.     Your ideas for an excursion will be gratefully received.
To join any excursion,  add your name to the Sign Up Sheet at the monthly meeting, or contact our Excursion Coordinator Ann on 021 120 1528 or  ann.dupuis3106@gmail.com
Here are details of our upcoming excursions for 2021:
Past Excursions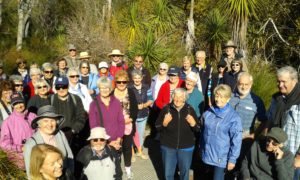 May: A walking excursion around Travis Wetlands with Dr Colin Meurk
APRIL
Thursday, 15 April
Reading a Cemetery: the visible and tangible evidence of those who have lived and died before us.
This excursion has been shaped to appeal to those people who are interested in genealogy, in family history and in the history of early Canterbury.  It will be facilitated by Dr Jan Cameron, a retired demographer who, apart from having  a personal interest in cemeteries generally as a source of data for her own family history, has also done extensive research on war graves.
After a short introduction, we  will break into smaller groups for a field exercise. A handout will be supplied for this part of the excursion. Participants will be directed to choose 8 to 10 legible gravestones and discuss and record what these graves can tell us e.g. demographic details, family history information and aspects of the social/ political and economic history of the area.  Afterwards, there will be a debrief on this exercise and a 'where to now' discussion.
Meet: Barbadoes Street Cemetery
Time: 10.15 am
Cost:  $10