Out and About
Our schedule of tours and visits has proved very popular with members because they provide further opportunities for socialising and learning about our community in an interesting and fun way.  
Over the past couple of years we have visited a variety of sites around Canterbury including completion of the Rebuild Tour, exploration of Ohinetahi in Governors Bay, rambling through Broadfield Gardens, traipsing around Travis Wetlands, meandering through the Air Force Museum and wandering through the Isaac Theatre Royal.    Your ideas for an excursion will be gratefully received.
To join any excursion,  add your name to the Sign Up Sheet at the monthly meeting, or contact our Excursion Coordinator Bev on tel: 352 4064/email: u3achristchurchnorthwest@gmail.com.
We are constantly updating these details so please keep checking this page.  
Recent Excursions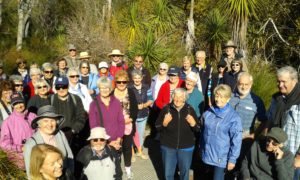 May: A walking excursion around Travis Wetlands with Dr Colin Meurk
MARCH
Tuesday, 20 March
Lunch time Concert

Place:  The Piano,  Armagh Street,
Time:  12.10-12.50 pm
Followed by coffee or lunch closeby
Programme: Gayle Blankenburg - American pianist with Mark Menzies, violin, viola
Gayle is visiting New Zealand as a guest of the University of Canterbury. She has an extensive performance career throughout the Unites States, Europe and Asia and has just recently received the highest critical acclaim from Gramophone Magazine, Opera News, the American Record Guide, and the Los Angeles Times for her latest CD. Gayle will be joined by friend and fellow musician Mark Menzies, Head of Performance music at University of Canterbury, to perform a programme featuring old and new American music including Gershwin, Harrison and an original work.
MARCH
Monday, 26 March
Great Hall Lunch time Concert

Place:  The Great Hall, Arts Centre, 2 Worcester Blvd
Time:  1.10 pm to 1.50 pm
Followed by coffee or lunch closeby
Programme:  "Tres Cordes String Trio" 
This high-spirited trio, featuring Christchurch Symphony Orchestra members Cathy Irons (violin), Sharon Baylis (viola) and Tomas Hurnik (cello), brings music to life with freshness, warmth and beauty.  Recent highlights include performances at the International Deia Festival, Spain, and the opening of the Chinese Spring Festival.  They also recently recorded the soundtrack for The Art of Recovery for the New Zealand International Film Festival.