Out and About
Our schedule of tours and visits has proved very popular with members because they provide further opportunities for socialising and learning about our community in an interesting and fun way.
Over recent times we have visited a variety of sites around Canterbury including: exploration of Ohinetahi in Governors Bay, meeting at the Masjid Al Noor Mosque; rambling through Broadfield Gardens; traipsing around Travis Wetlands; eyeing the art at Iron Ridge Quarry Sculpture Park; and strolling around the SALT area of the CBD.  Your ideas for an excursion will be gratefully received.
To join any excursion,  add your name to the Sign Up Sheet at the monthly meeting, or contact our Excursion Coordinator Ann on 021 120 1528 or  ann.dupuis3106@gmail.com
Here are details of our upcoming excursions for 2021:
Past Excursions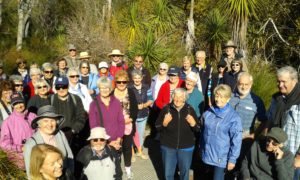 May: A walking excursion around Travis Wetlands with Dr Colin Meurk
AUGUST
Wednesday, 18 August
Tour Christchurch Art Gallery, Puna o Waiwhetu.
Meet: 10.15 am,  front desk at the Gallery
Cost: $10 for the guided tour which will be donated in total to the Art Gallery
We will have a guided tour of the Gallery, followed by an optional  coffee/ lunch at the Thirsty Peacock, the cafe located within the Art Gallery.