Out and About
Our schedule of tours and visits has proved very popular with members because they provide further opportunities for socialising and learning about our community in an interesting and fun way.
Over recent times we have visited a variety of sites around Canterbury including: exploration of Ohinetahi in Governors Bay, meeting at the Masjid Al Noor Mosque; rambling through Broadfield Gardens; traipsing around Travis Wetlands; eyeing the art at Iron Ridge Quarry Sculpture Park; and strolling around the SALT area of the CBD.  Your ideas for an excursion will be gratefully received.
To join any excursion,  add your name to the Sign Up Sheet at the monthly meeting, or contact our Excursion Coordinator Ann on 021 120 1528 or  ann.dupuis3106@gmail.com
Here are details of our upcoming excursions for 2021:
Past Excursions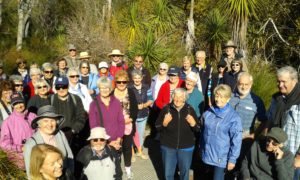 May: A walking excursion around Travis Wetlands with Dr Colin Meurk
National Volunteer Week 2021
Date:  Monday, 21 June
Time:  9:30am to 12 noon
Venue:  15 Waterman Place, Ferrymead
June 21st to June 26th is National Volunteer Week across New Zealand.   This year U3A Northwest will volunteer to pack food parcels for 0800 Hungry, a non-denominational charitable trust that distributes food to individuals and families in need.
Cost:  There is no cost to you as a volunteer.
There is space for only 20 volunteers so if you are interested please be quick to register.
Mid-winter lunch
Date:  Monday, 5 July
Time:  12 noon
Venue:  The Old Vicarage, 335 Halswell Road, Halswell
Cost:  $45 - includes nibbles to start, a choice of a main meal, a choice of dessert and barista made tea and coffee.  You can also purchase wine and other drinks from the bar.
Parking:  There is plenty of parking - some on-site and lots right next door at the Halswell Domain.