Out and About
Our schedule of tours and visits has proved very popular with members because they provide further opportunities for socialising and learning about our community in an interesting and fun way.  Below you will find the excursions planned for the next few months.
Over the past couple of years we have visited a variety of sites around Canterbury including exploration of Ohinetahi in Governors Bay, ogling Otahuna Gardens in Tai Tapu, rambling through Broadfield Gardens, traipsing around Travis Wetlands, meandering through the Air Force Museum and gathering at the Art Gallery.     Your ideas for an excursion will be gratefully received.
No Excursions are happening at the moment, due to Covid-19.
Recent Excursions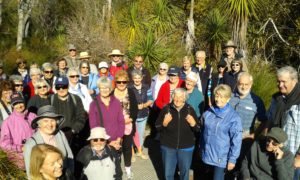 May: A walking excursion around Travis Wetlands with Dr Colin Meurk